Samba's
Mastitis Page
Check out what happened to me!
On Friday October 25th 2012 all was well in the morning and I played with my ball in the back yard. By 5:00pm I was in pain with a swelling under my right arm. All that night I was unable to sleep and was in pain. The next morning My Mom and Dad and Ashley took me to see Dr. Becker and she said I had an infection in my breast tissue. Below you can see how the infection progressed and how I am doing now.



Me and my ball Friday morning!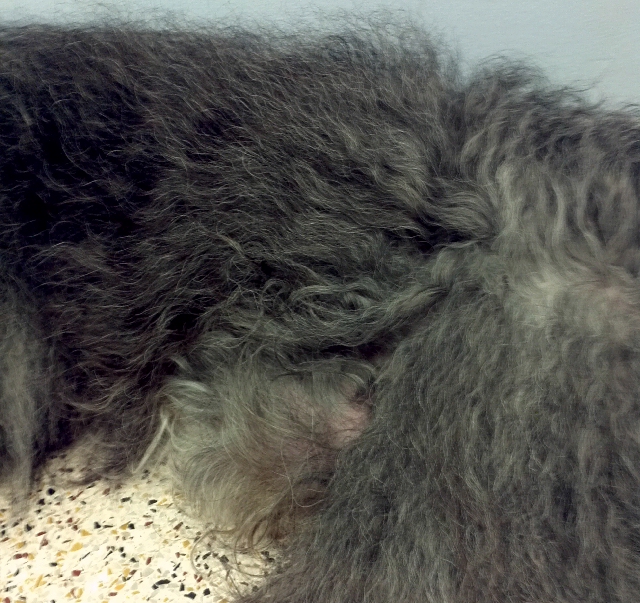 Me on my side before my hair was cut on Saturday morning Oct. 27th, before Dr. Becker saw me.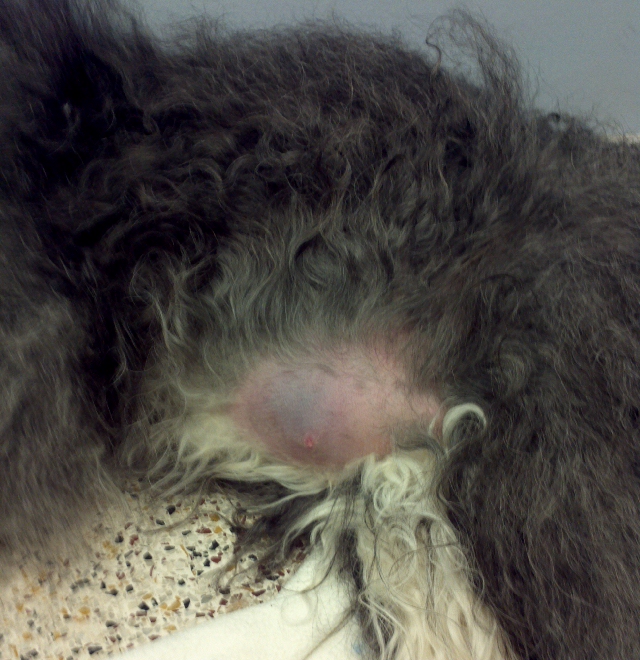 This is Saturday Oct. 27th after my hair was cut, now you can see the swelling and the purple part Dr. Becker was worried about. She started me on two antibiotics and some pain medicine along with some special cream.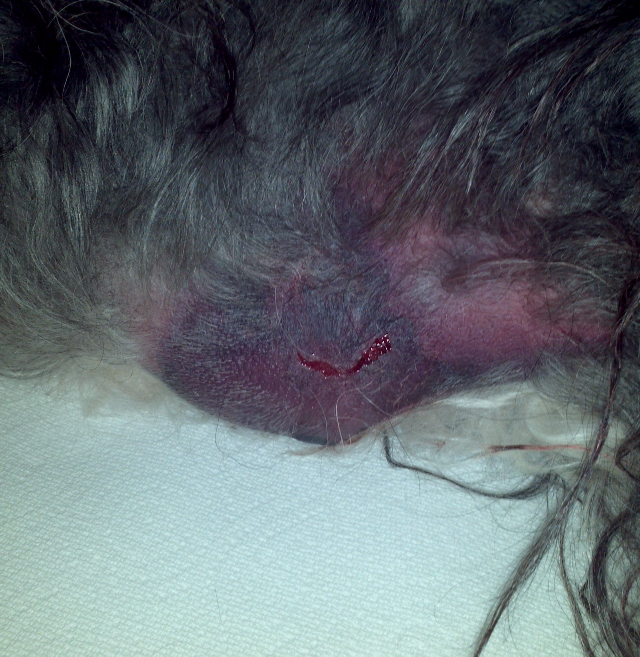 7 This is Sunday night and the damage to my skin was done by the infection and swelling. Some of my skin was dead and more was dying.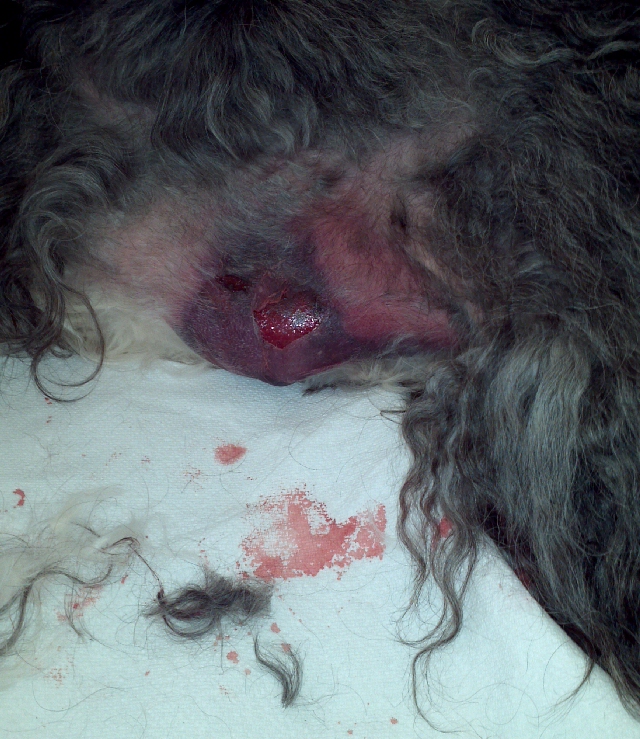 Monday morning and some of the top layer of skin is sloughing off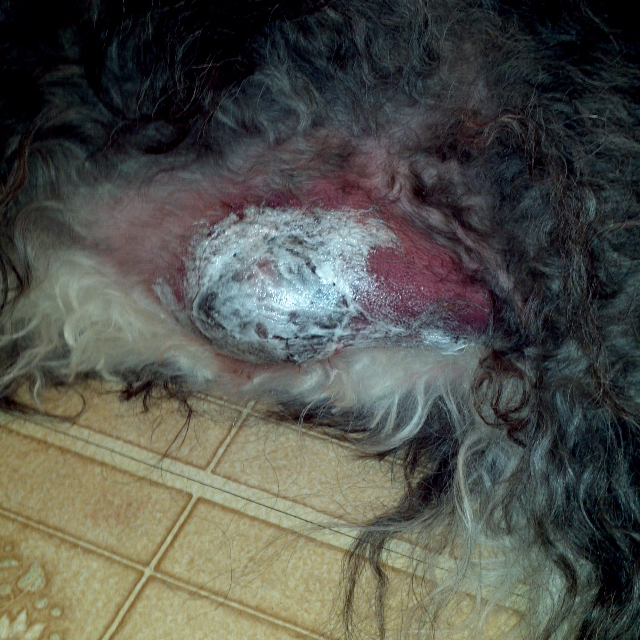 This is Tuesday Oct. 30th with the burn cream on before it is spread around and a bandage is put on for the night.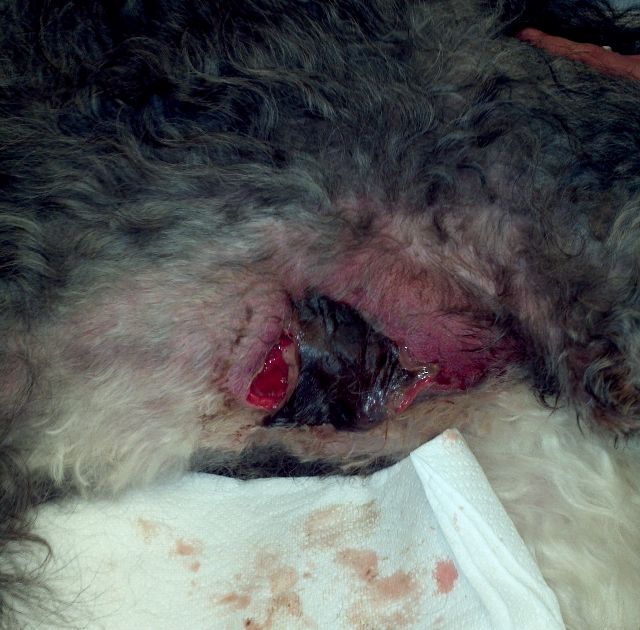 This is Wednesday Oct. 31st and the dead skin is starting to fall off, but healthy tissue is below. Now I get my sugar bandage and wait two days before I get to see Dr. Becker.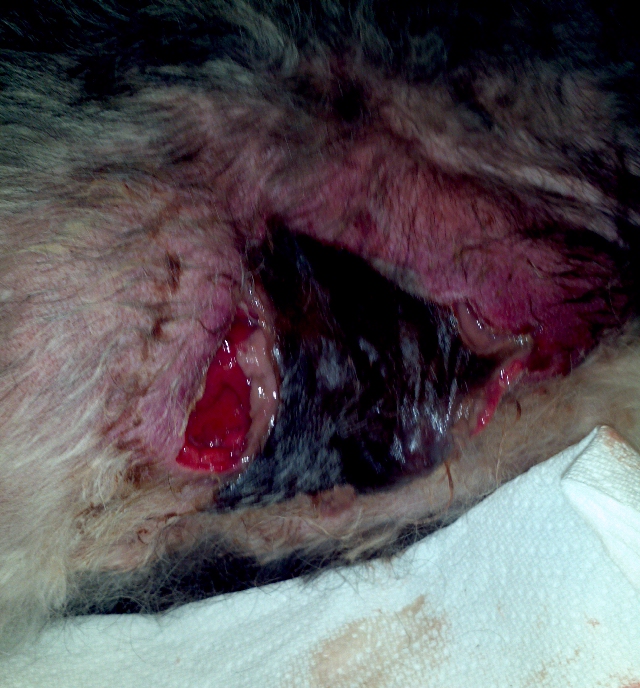 A close up of the dead tissue.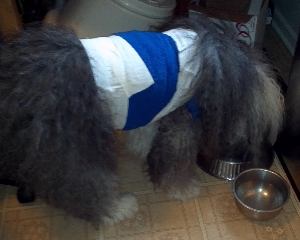 This is me wiht my sugar bandage, my appetite is getting better!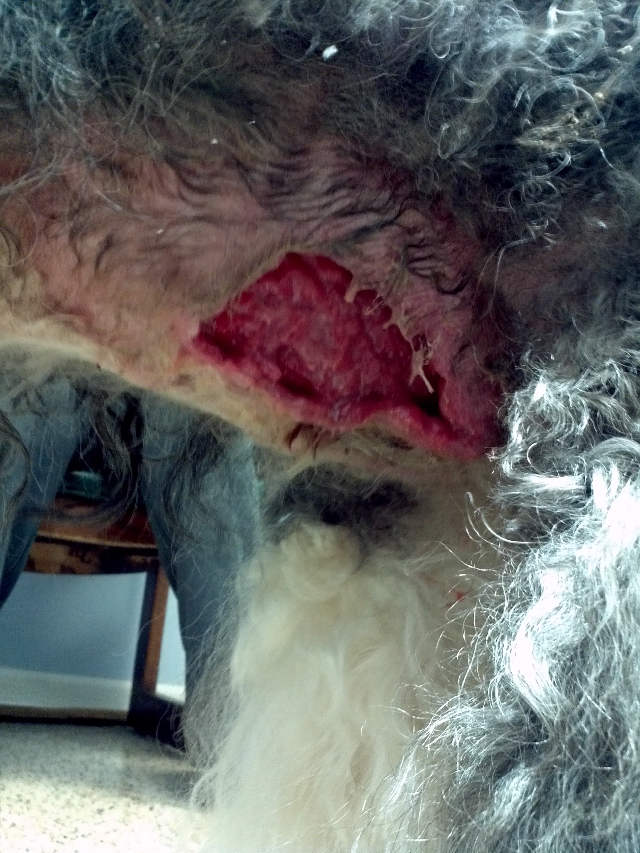 This is Wednesday Nov. 2nd after the sugar bandage was removed and the dead tissue came off with the bandage. This is what it looks like while I am standing up.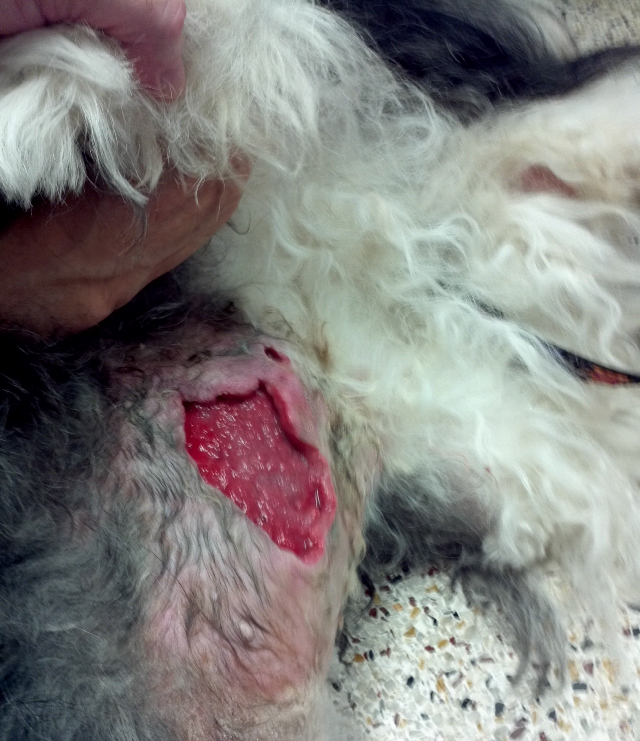 This is me on my side while my wound is being washed.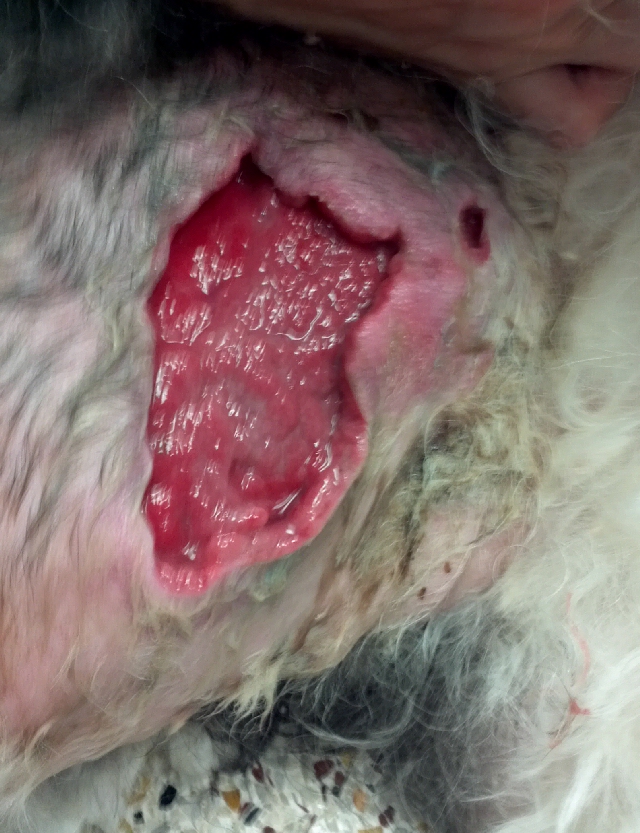 Now I get another sugar bandage and go home for two more days. My tissue looks good and Dr. Becker gave me more antibiotics to help me get better.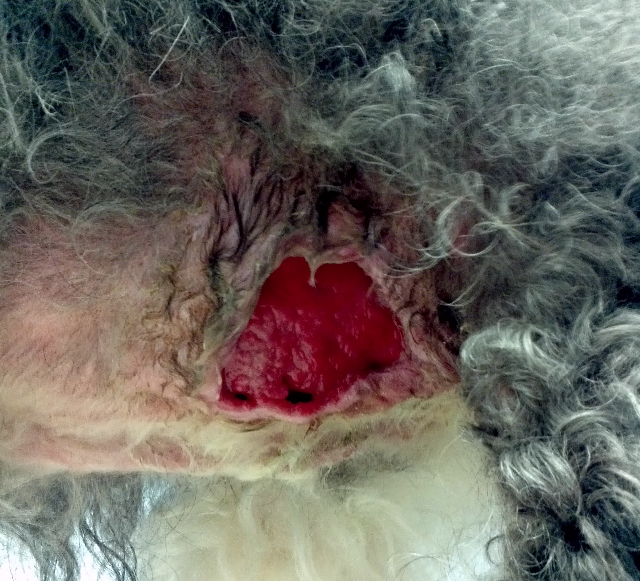 This is what I look like today Monday Nov. 5th. Looking better, healthy tissue good blood supply and some healing!!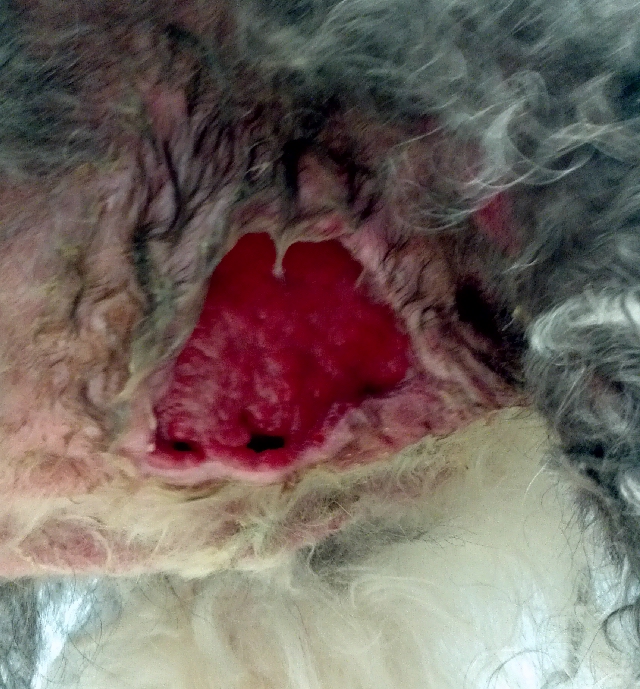 A little closer, not quite so clear.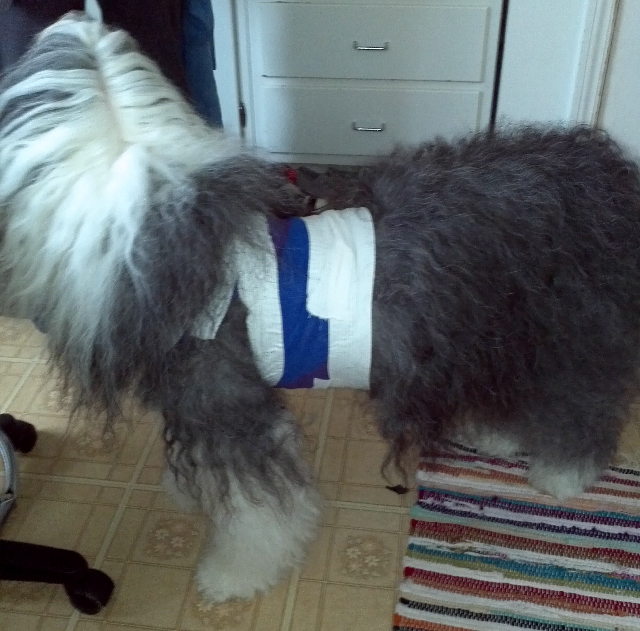 My third sugar bandage, they seem to be doing a great job!! Thanks Dr. Becker and all the staff!.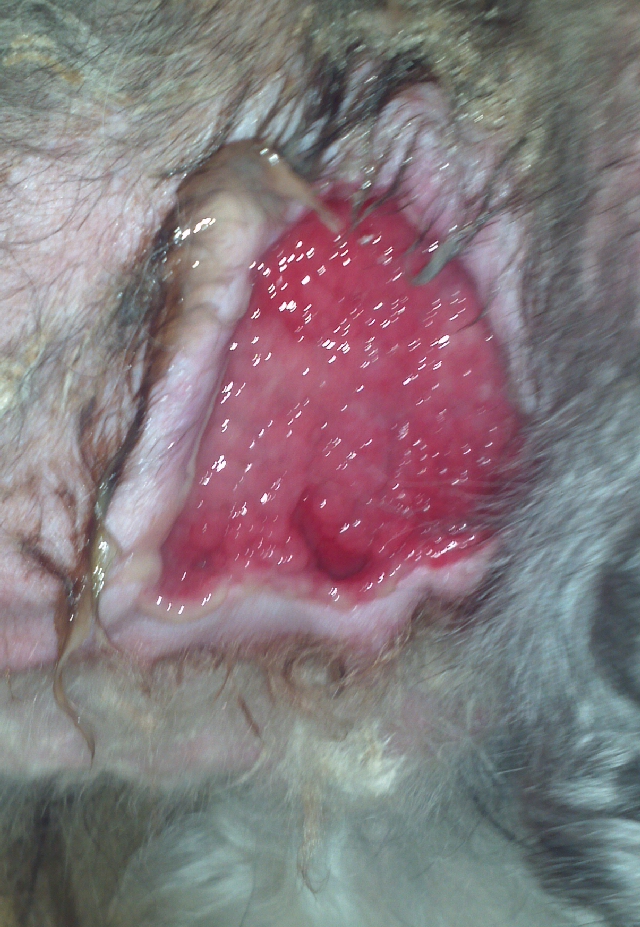 This is Thursday after 3 days with the sugar bandage on. This it right after it was taken off on 11-8-2012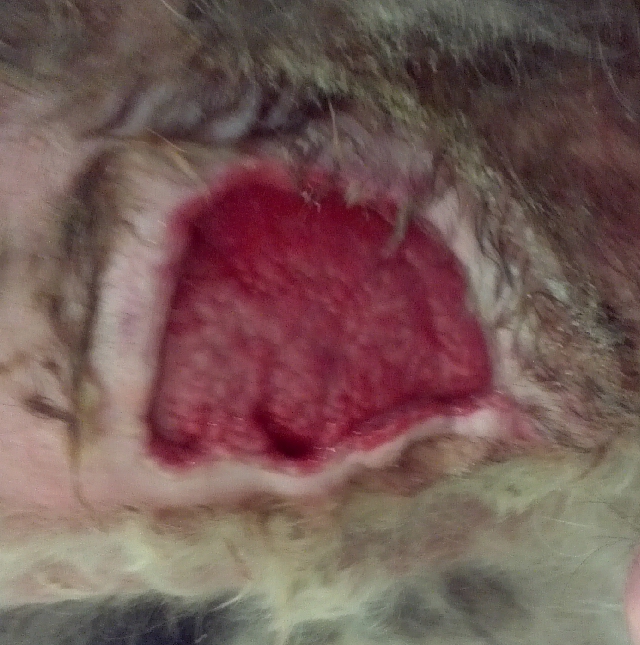 This is Thursday after a little clean up, just before the first dry bandage gets put on.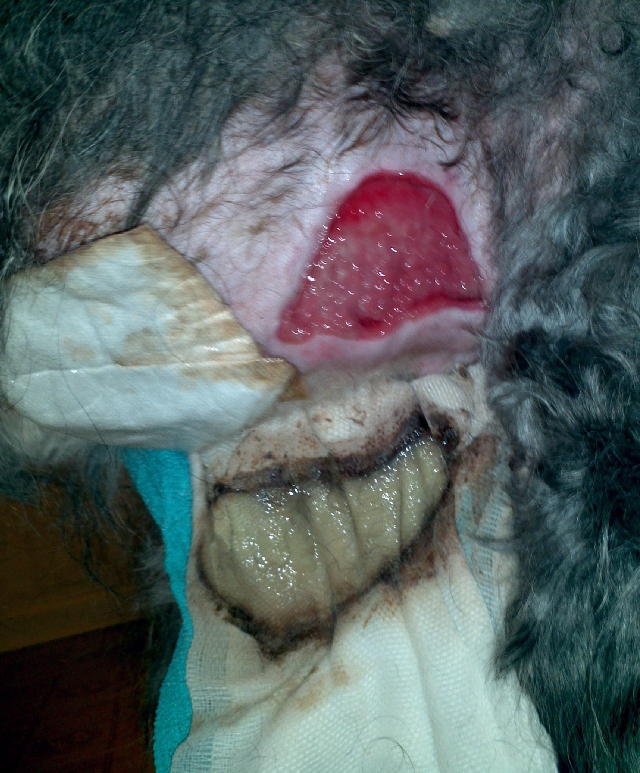 This is Saturday 11-10-12 two days later as the dry bandage is being removed. The bandage may have to be changed more often from now on.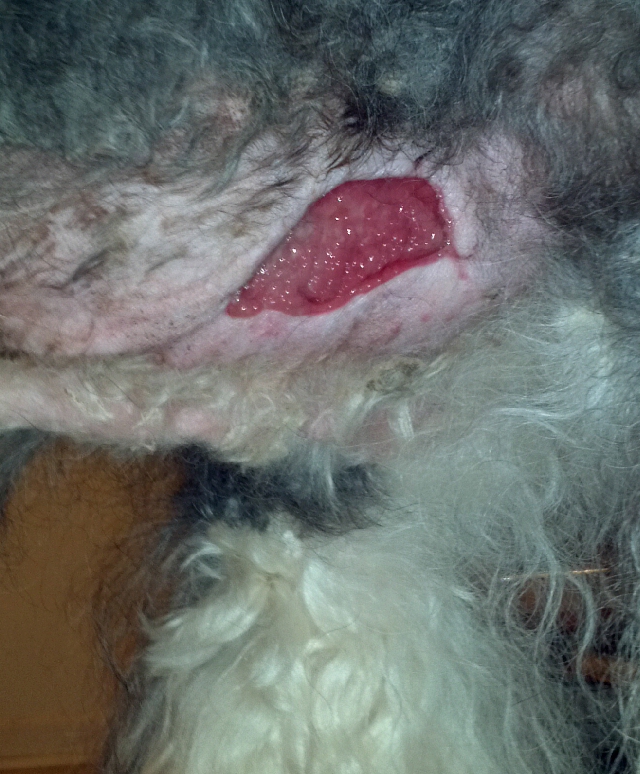 Saturday the 10th after a little clean up.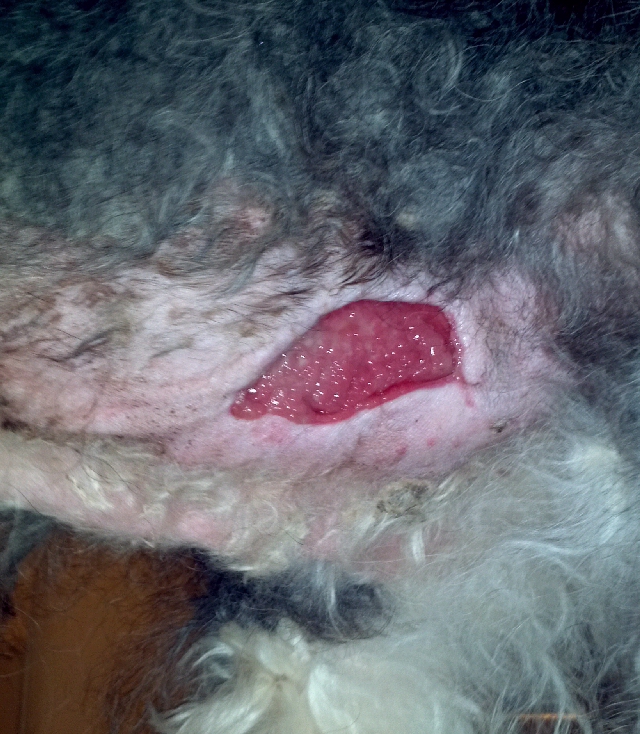 Saturday just before the new dry bandage is put on. This is about 8:00pm I am healing well! I just need to stay calm and not jump or run. I sure miss playing with my ball.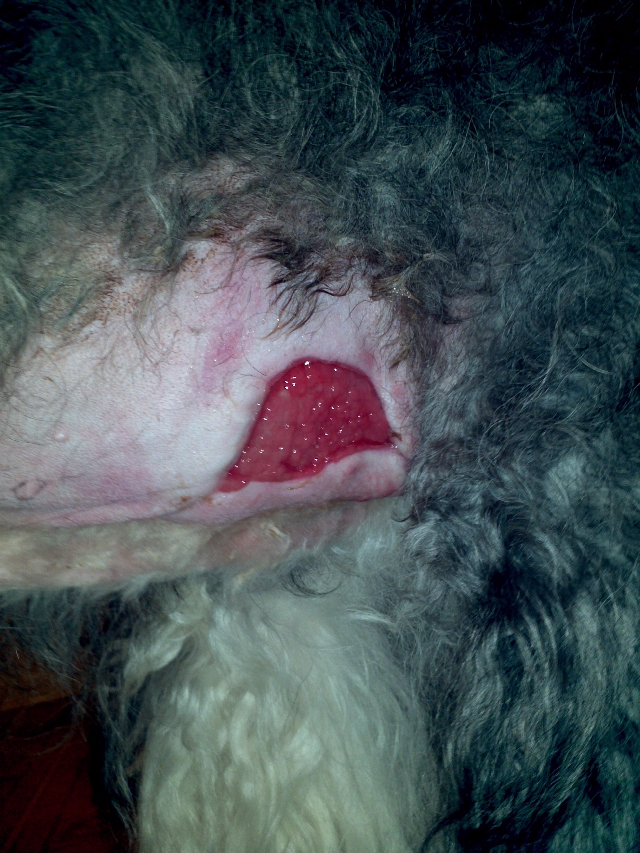 This is me on Monday 11-12-2012 after my 2nd dry bandage change.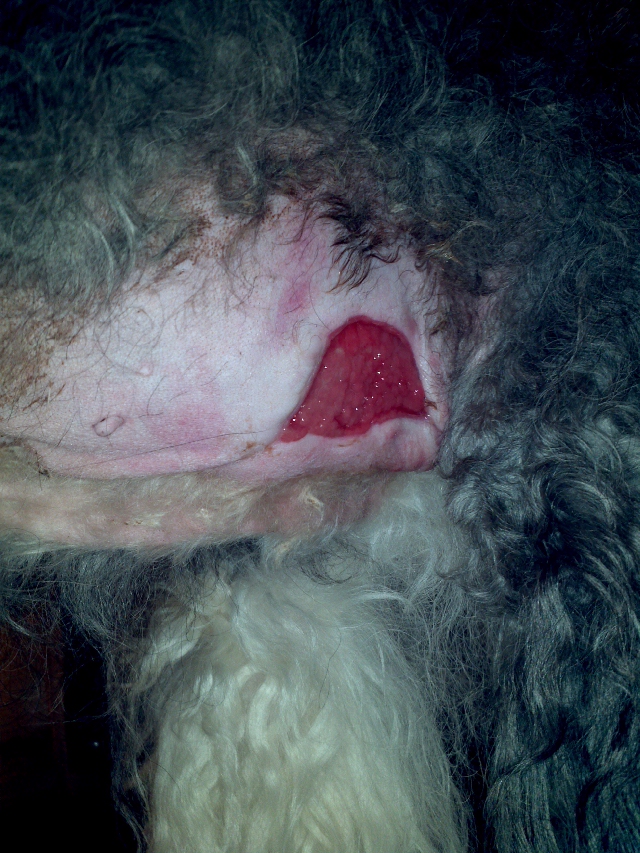 Monday again slightly different view.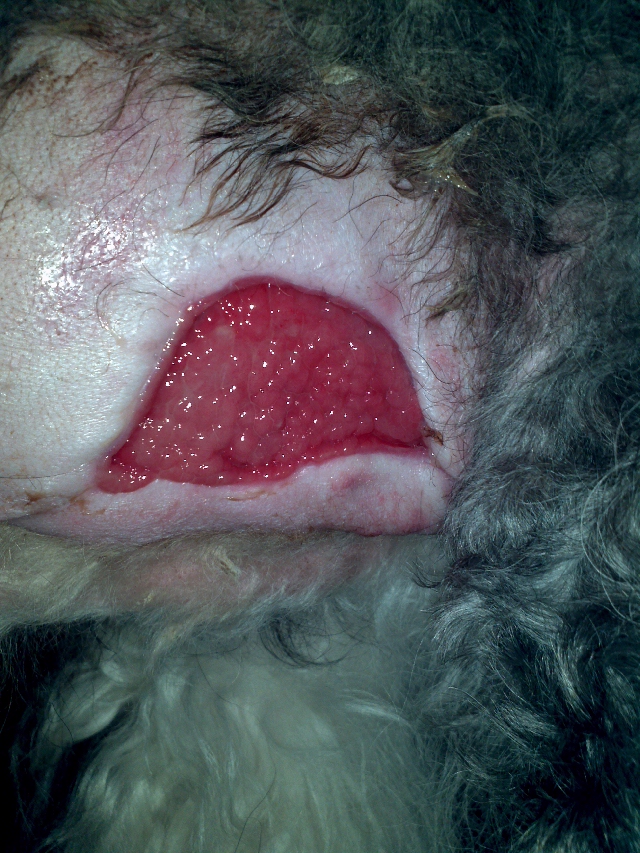 Monday 11-12-2012 close up.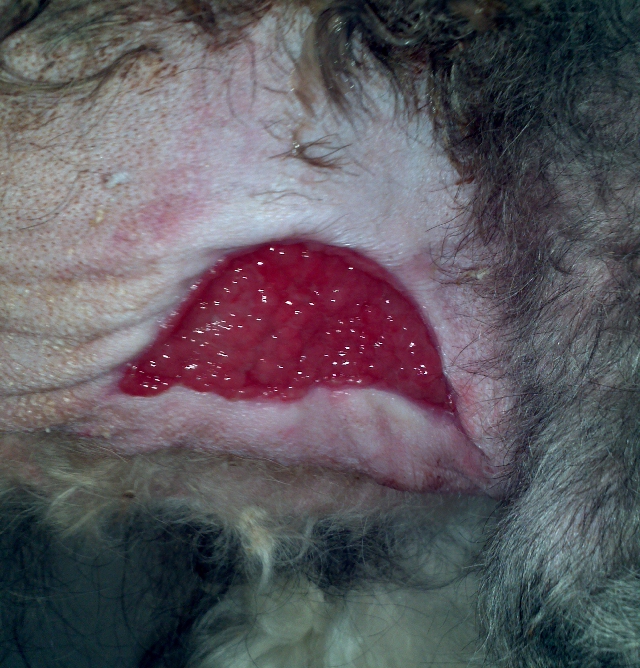 Wednesday 11-14-12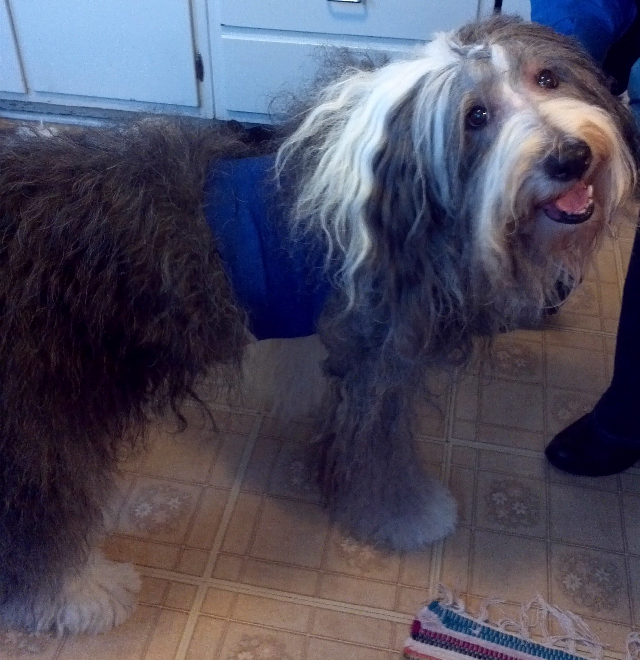 This is me on Wednesday the 14th, I am feeling like myself again, but no one will let me run or play.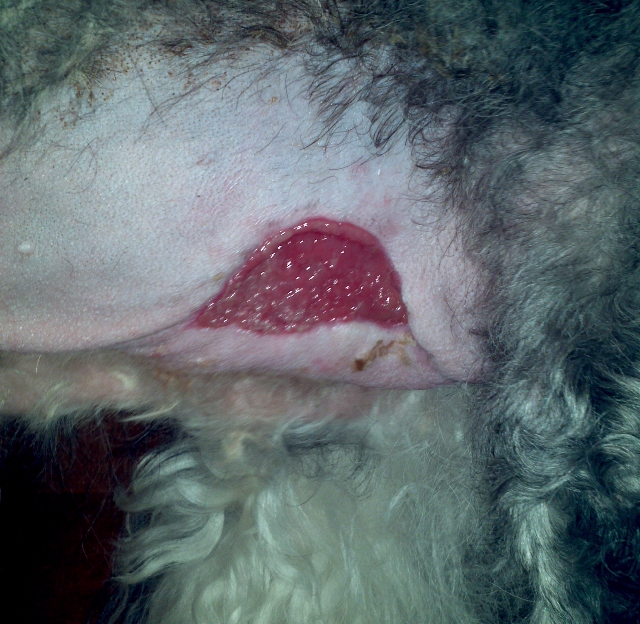 This is two day later, Friday the 16th and things are looking good!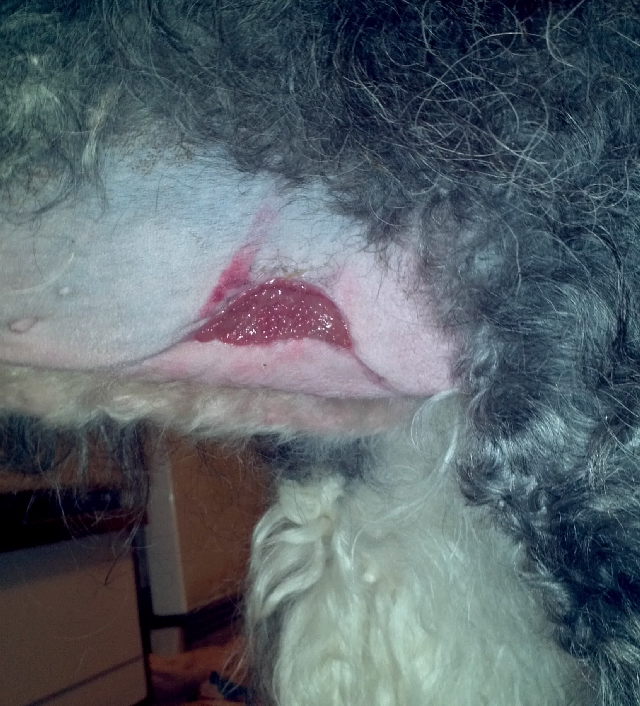 Monday the 19th and I keep getting better!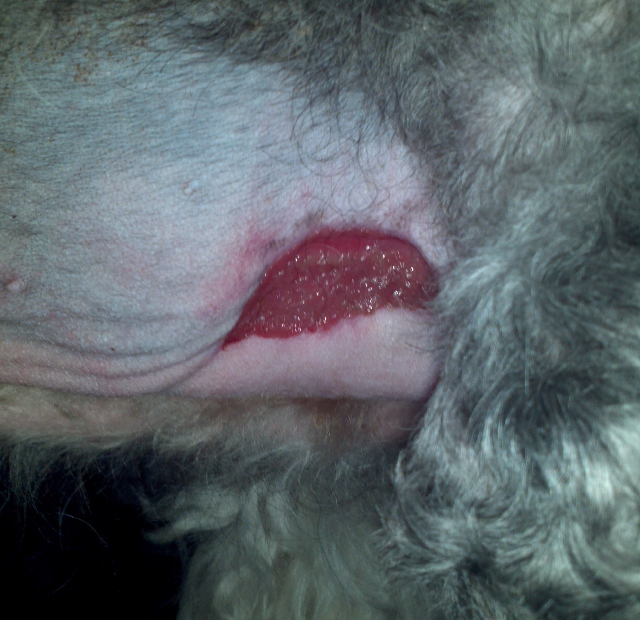 Wednesday the 21st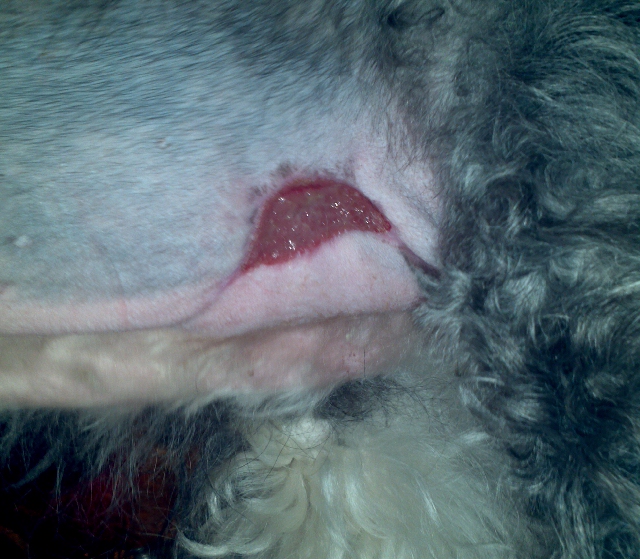 Friday the 23rd and it is getting smaller and I feel much better, why won't anyone play with me?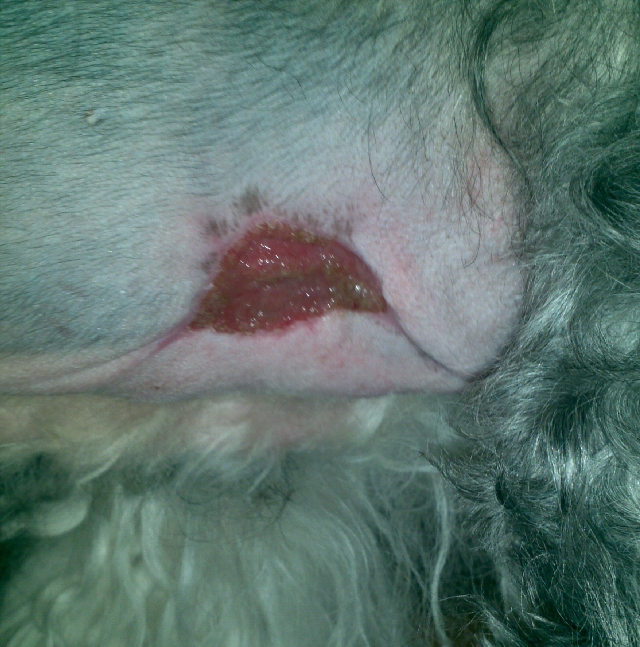 Just a day later on Saturday the 24th. Is that scab starting to form?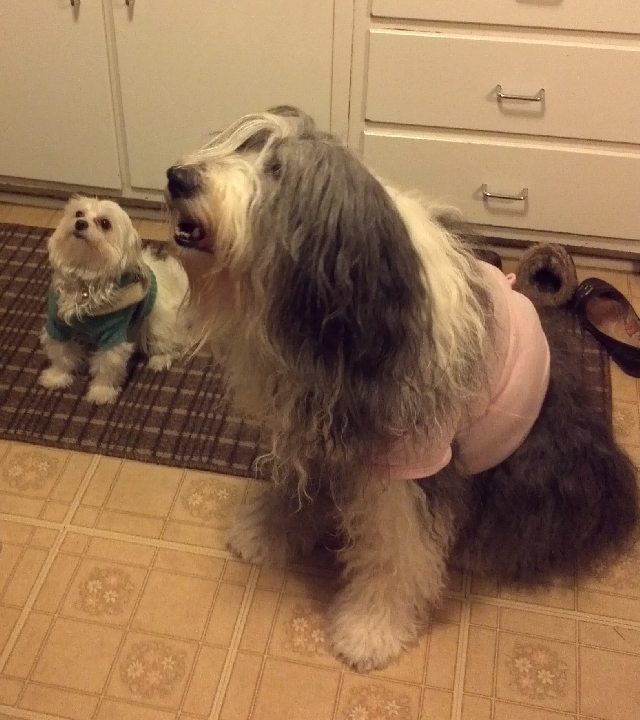 This is my little sister with me on Tuesday the 27th, I sure do feel better, but mom says I need a bath!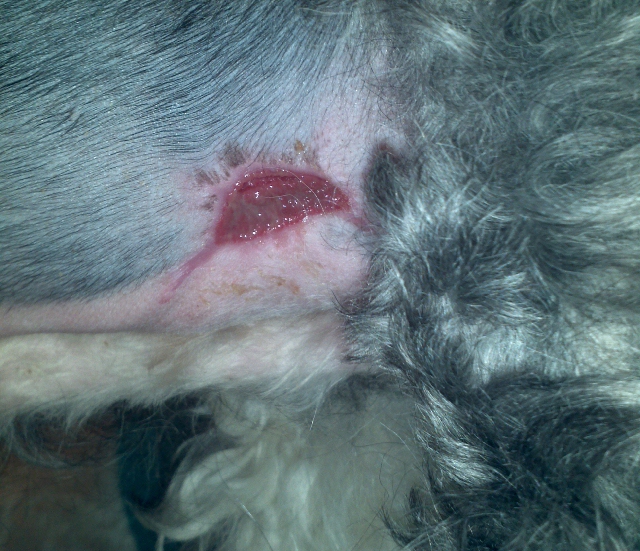 This is Thursday the 29th of November and it keeps getting smaller!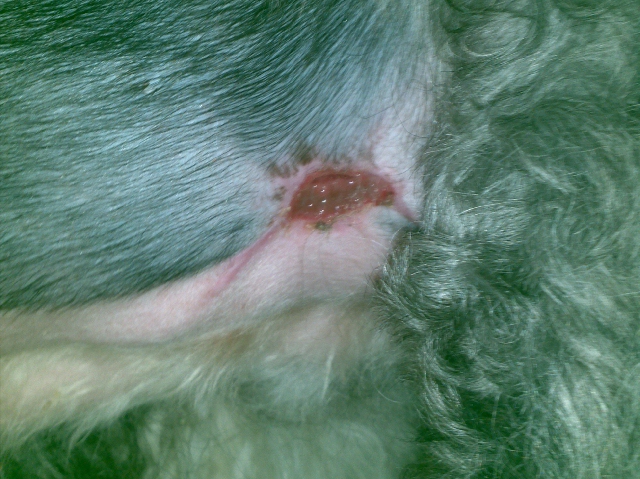 Monday the 3rd of December, I may be better before the new year!!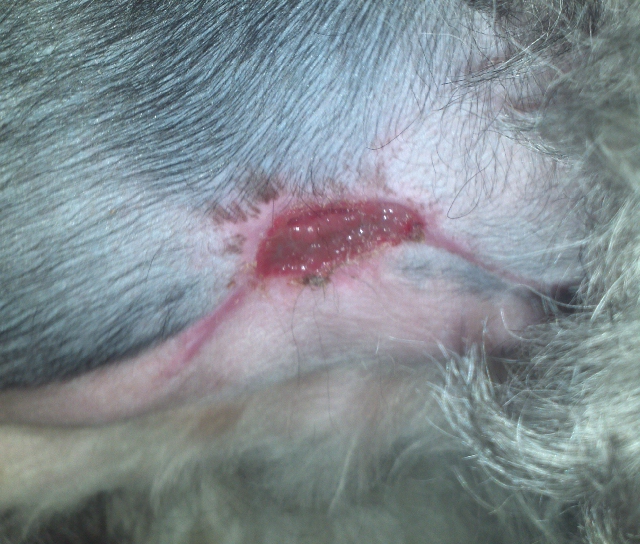 A close up of monday the 3rd and it is healing fast now!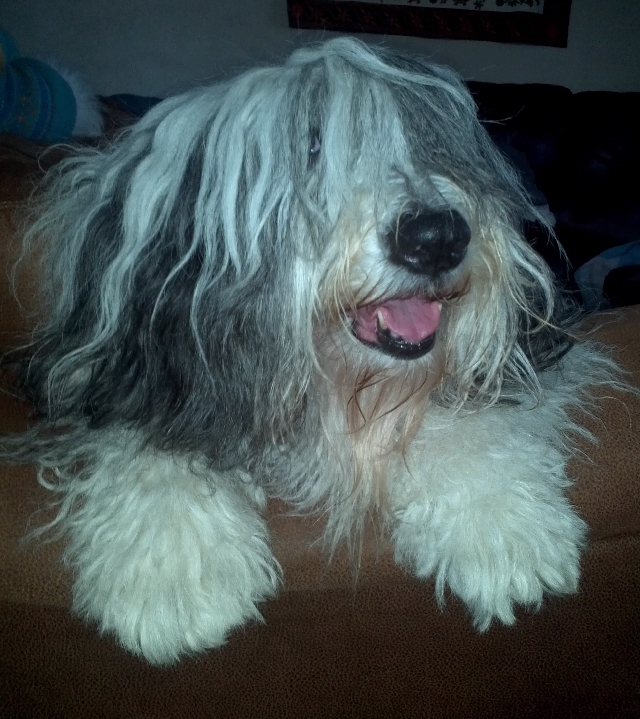 This me on Tuesday Dec. 4th and I feel like myself again, but I sure do need a good brushing and an bath!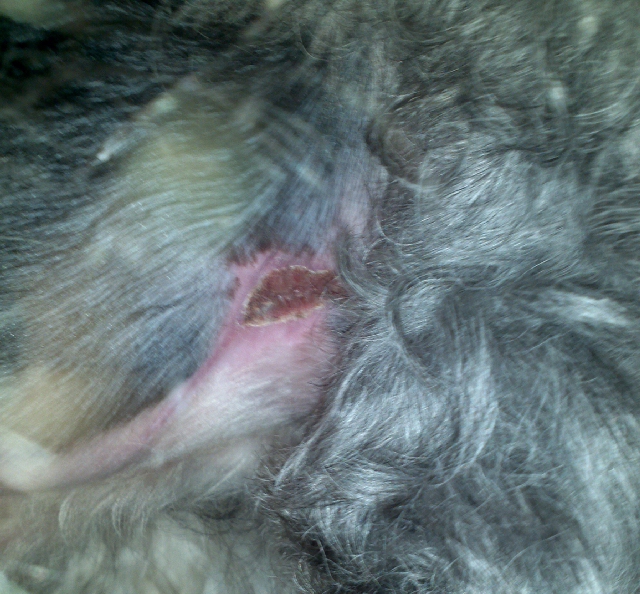 This is Friday Dec. 7th and I finally have a scab!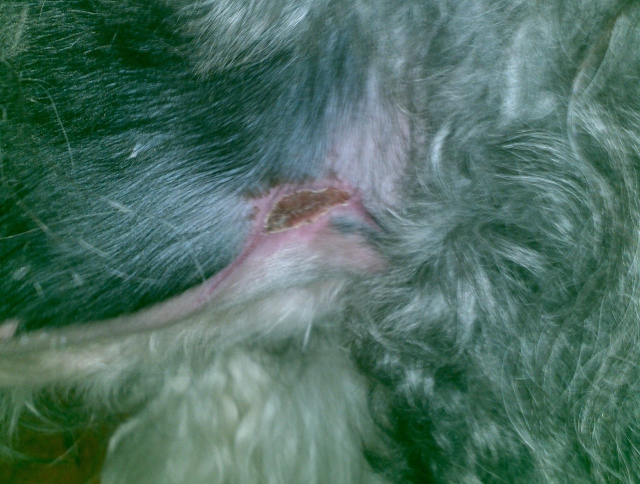 Another pic of my scab, I feel a bath coming soon!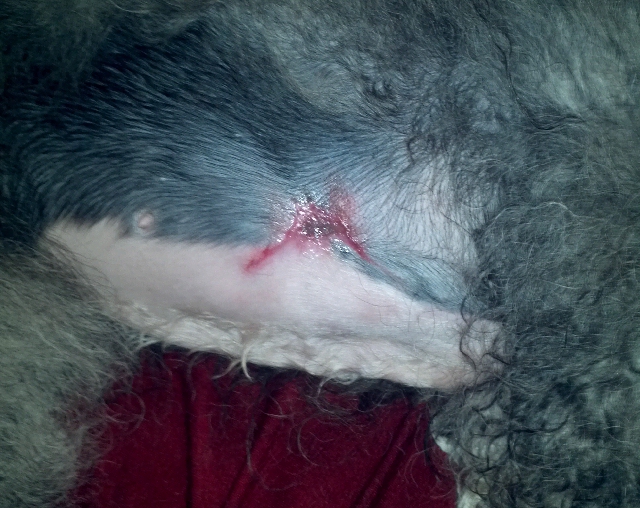 Sunday Dec. 9th and I got my first bath in two months! Now it brushing time, but my wound is much better and I got to chase my ball before my bath! I am a much happier dog, thanks Dr. Becker and Everyone at the Preiser Animal Hospital!